Series of four armchairs in molded and carved wood formerly lacquered French work, Louis XVI period
Series of four armchairs in molded and carved wood formerly lacquered French work, Louis XVI period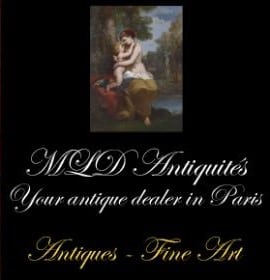 85 rue des Rosiers, Biron Market, Allée 1, Galeries 82-83-84, Saint-Ouen, France - 93400
info@mldantiques.com
Series of four armchairs in molded and carved wood formerly lacquered French work, Louis XVI period
An elegant and decorative series of four cabriolet armchairs, in beech, formerly lacquered, molded and sculpted with flowers in the connecting dice, backrests with gendarme's hats and turbulent armrest supports; they are based on tapered fluted legs.
Beautiful French work, formerly lacquered, Louis XVI period, circa 1780-1790.
Dimensions: Height 88,5 cm - Width 60,5 cm - Depth 51,5 cm - Seat height 41 cm.
Our chairs are in perfect used condition, lacquer wear and reinforcements. They are covered with a pretty yellow canvas decorated with garlands of flowers.
French Louis XVI Period, Lacquered-Fruitwood Set of Four Armchairs Circa 1780
An elegant and decorative French Louis XVI period, hand-carved lacquered-fruitwood set of four armchairs. They raised on lovely fluted tapered legs.
Beautiful French Louis XVI period Work circa 1780-1790.
Measurements: Height 34.84 In. - Width 23.81 In. - Depth 20.27 In.
In good original condition, with a lovely new yellow fabric decorated with garlands of flowers.
| | |
| --- | --- |
| Locations | |
| Century | |
| Style | |
| Object Type | |
Questions and general requests
There are no inquiries yet.