Oil painting entitled 50 Shades of Water Lilies N ° 6 by the painter Isabelle Delannoy
Table N ° 6 - 50 Shades of Water Lilies - Oil on canvas 125 × 160 cm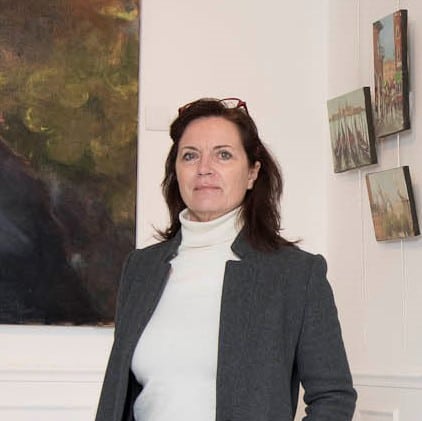 85 rue des Rosiers, Marché Biron - Stand 187 Allée 2, Saint-Ouen, France - 93400
contact@isabelle-delannoy.com
Painting "N ° 6 - 50 Shades of Water Lilies" - Oil on canvas 130x162cm
The movement of water "drowns" in a range of cerulean blue
bringing softness and serenity to the whole. The movement of the water at the bottom
on the left forms a pretty arabesque in which we would like to get lost.
6th version of "50 Shades of Water Lilies" which will count, as its name suggests, 50 versions of Claude Monet's idyllic basin.
Isabelle Delannoy is particularly fond of series which allow her to explore the same subject in depth and thus make unsuspected discoveries. Each work is unique!
There is always a story behind a painting. The series "50 Shades of Water Lilies" will be made up of 50 versions of the magical setting of Monet's Water Lilies basin, a long series just started of which you have the first ... Isabelle Delannoy likes series, the theme may be the same, but the result always different. The idea of ​​Water Lilies was obvious when the artist visited the exhibition in 2018: Water Lilies: American Abstraction and the Last Monet. Also, the story around the name was found quite naturally when two of these floral paintings were selected by Nelson Coates for the film "Fifty Shades of gray" (50 Shades of gray) ...
| | |
| --- | --- |
| Locations | |
| Century | |
| Style | |
| Object Type | |
Questions and general requests
There are no inquiries yet.